Nigeria Becoming a Failed State, a Basket Case Under Buhari- Obasanjo Lampoons President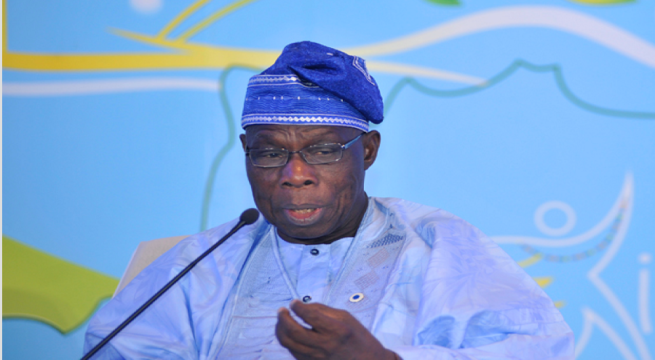 Latest posts by Obiajulu Joel Nwolu
(see all)
Former President Olusegun Obasanjo has said Nigeria is gradually becoming a failed state and a basket case that urgently needs to be pulled from the verge of collapse.
He said this in Abuja on Thursday while delivering a speech titled, 'Moving Nigeria Away from Tipping Over' at a consultative dialogue attended by representatives of Afenifere, Middle Belt Forum, Northern Elders Forum, Ohanaeze Ndi Igbo and Pan Niger Delta Forum.
The elder statesman alleged Nigeria needs to be rescued from the brink of collapse.
He said he had never seen Nigeria so divided, noting that many of the problems hindering the growth of the country today were attributed to the recent mismanagement of Nigeria's diversity.
Obasanjo said "Today, Nigeria is fast drifting to a failed and badly divided state; economically our country is becoming a basket case and poverty capital of the world, and socially, we are firming up as an unwholesome and insecure country.
"And these manifestations are the products of recent mismanagement of diversity and socio-economic development of our country.
"Old fault lines that were disappearing have opened up in greater fissures and with drums of hatred, disintegration and separation and accompanying choruses being heard loud and clear almost everywhere."
He reminded those beating drums of war and calling for secession to remember that were Nigeria to break into several countries, the citizens would still be neighbours and would need to interact with one another.
Obsanjo advised that if the country was to successfully address is barrage of problems, it must first address the problem of disunity because a house divided could not achieve much success.
According to him, the fresh constitutional review exercise instituted by the National Assembly is a waste of time and resources.
Source: Punch
This post was written by Obiajulu Joel Nwolu.
The views expressed here belong to the author and do not necessarily reflect our views and opinions.
Don't miss the stories
followAfrican News Today
and let's be smart!